The most important facts of an own Valve Test Center
When I think back 20 years, I nearly cannot imagine how we were able to provide such high quality valves without the means of testing them in such an extensive way like we do this today.
I remember very well the time, when I started at AS-Schneider as a design engineer. Fire Safe Approvals and Fugitive Emission Testing (TA-Luft) had to be done outside the company on a third party test rig. There was no chance to do a pre-testing and it was always very exciting when the third party like TÜV was witnessing the tests. Well, most of the approvals were passed successfully, but I also remember some Type approvals were we failed at the first stage. The disappointment was great and we lost time with the re-design and the second try.
Today we are very glad to operate our TechCenter with 2 Fire Safe test rigs, a fully automated valve test bench, a climate chamber, etc. Once we started our TechCenter, it was so exciting for us to learn what our valves are able to withstand and where they have their limits.
Three examples of our "lessons learned"
Temperature cycles stress the valve really hard.
Due to the different thermal expansion coefficients of PTFE and steel, the packing wants to expand more than the bonnet. As PTFE becomes very soft under elevated temperatures, it extrudes into the smallest gaps, like you see in the picture on the right. The problem is the point after cooling down the valve. PTFE shrinks but the material which extruded into the gap doesn't come back again. So there is a lack of packing material inside the stuffing box and therefore also a loss of compression, which results in a leaking valve.
Lesson learned:
Keep the gap between the stem and the gland as small as possible
or use springs to compensate the loss of compression
or use Graphite packing, as this Graphite is less susceptible than PTFE regarding extrusion.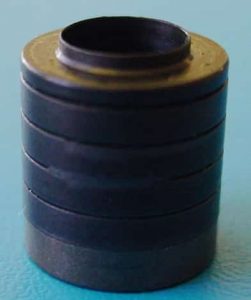 When doing our ISO 15848 approval, our target was to fulfill the highest requirements for our valves: Tightness Class A, Endurance Class CO3 (2.500 mechanical and 4 thermal cycles), 200°C and pressure of 420bar.
We realized very fast, that we also have to pay special attention to the stem threads, as under these hard conditions the threads were galling (see picture on the right). Without having our valve test rig, we wouldn't be able to do all the tests which were necessary to achieve the goal.
Lesson learned:
Use a high wear resistant, hard coated stem thread
Use non-rotating stem for reducing friction forces
Use a thrust bearing on the stem/valve tip connection
Choose the correct lubricant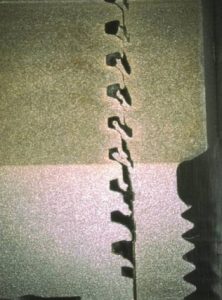 3. Influence of cold environment
Some weeks ago I saw a movie on TV about Russian Pipelines. People drove with a lorry from valve to valve for de-freezing them with steam.
As we also provide valves for regions where the temperature can drop down to minus 55°C, we invested in a fridge which can cool down the valve to minus 60°C.
Lesson leaned:
Pay special attention to the lubricants as they might freeze and make the valve inoperable and also a retightening of the packing is not possible anymore
better to avoid any lubricant and use special coating instead.
I could add many further examples, which show how important it is to have an own testing facility, but this would be too much for this post.
In my opinion it's a must for a valve manufacturer to operate his own test center.
Only with the possibility to do extensive testing on the products, you are able to fulfill the customers' needs and provide reliable, safe and optimized valves.
Also a prototype testing in an early development stage helps to keep the development time short and also to launch a safe product. Because the development engineers can participate in assembling and testing their prototypes, there is an increase of experience and knowledge for them.
I cannot image to develop valves without a test facility anymore.
(Images source: © AS-Schneider)